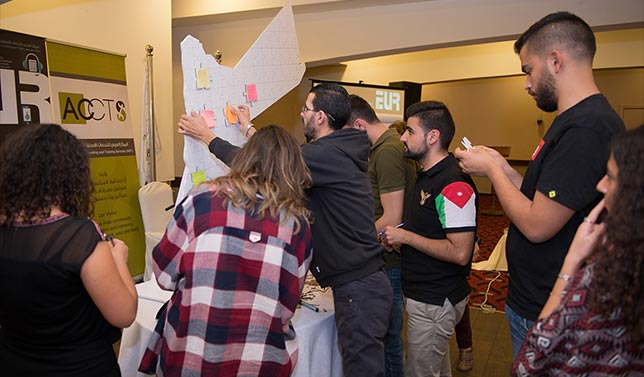 Youth are a positive force for change; their opportunities for communicating, acting, and influencing are unprecedented. The challenges they face are outstanding, too, from unemployment to multiple forms of inequalities, marginalizing and exclusion.
Youth in Jordan constitute a significant segment of the population, yet they face the most hardships and lack the feeling of belonging. The difficult circumstances that young people face, because of limited employment opportunities, economic situation, and the misunderstanding of their essential role, play a prominent role in social development.
This initiative aims to instill the values of profitable and productive youth and motivate them to lead the constrictive change by providing them with a platform to develop and utilize their skills, knowledge and intellectual formation.
ACCTS recognizes that young people, in all their diversity, have rights and duties to participate and contribute to community development and beyond. Thus, we believe that young men and women's participation in community development; political processes, public life, environmental stewardship, peace building, and conflict prevention will increasingly shape and transform the quality and prospects or sustainable human development.
ACCTS seeks to address youth's aspirations and aims to create an enabling environment for inclusive and meaningful engagement and participation of young men and women in development discussions, planning, programming, and decision-making processes by raising awareness, bringing enlightenment, and expanding the knowledge.
It requires the availability of formal and informal platforms that young women and men can use to voice their opinions and perspectives, besides new forms of capacity development to equip young people with the employment and entrepreneurial skills that they need to contribute to inclusive growth and sustainable social development. Their imagination, ideals, considerable energies, and vision are essential for the sustainable development of the societies in which they live.