News
ACCTS Life-Growth Program "Nouara" 2021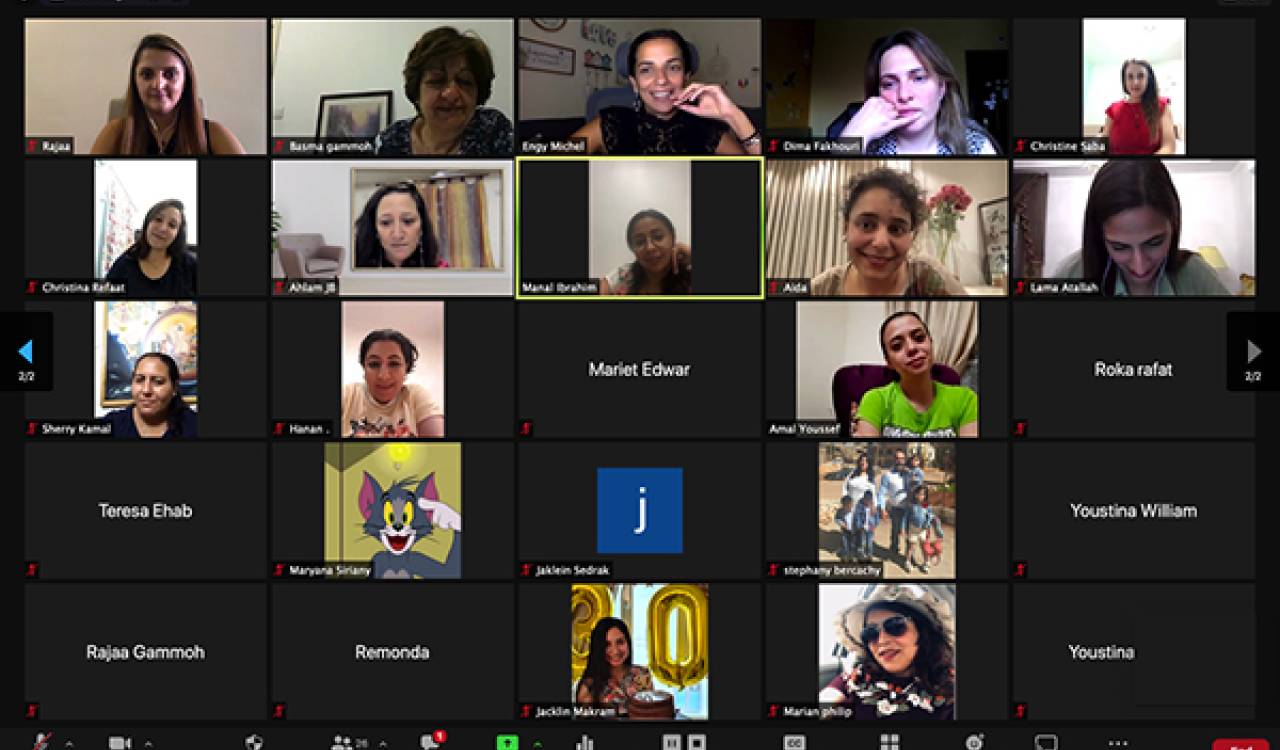 ACCTS Life-Growth Program "Nouara" 2021
Two life-growth virtual training events took place in June and July, reaching 8 countries and 42 Arab women impacting their lives powerfully.
June-July, 2021
The AWT team has been thrilled to start this incredible journey with a special and unique group of women from Jordan, Palestine, Lebanon, Kuwait, Egypt, Tunisia, Algeria, and the USA.
What makes this group unique is their thirst and hunger to grow on many levels: intellectually, emotionally, and spiritually. They better understood themselves. They shared their concerns and learned practical methods to develop their lives.
Each group, with 22 women each, undertook a 6-week training supported by assignments and development plans. The training covered growth mindset, healthy management of emotions, building habits, and healthy self-identified boundaries to invest in the process. Women identified their roles and the weaknesses in their wheel of life and set growth plans. Other topics addressed spiritual health and provided tools to study the Word of God. 
AWT will be coaching and following up with them in the coming months to track their growth in their knowledge, attitudes or behaviors, and to encourage them along the way. We want to see them mature spiritually, experience healing, and grow in their identity, awareness, and peace. We want to see them not only develop but also lead and influence others. The fruit we witness encourages our hearts and ignites passion within us to keep moving forward.
Partners and friends, it thrills us to share with you some feedback to taste some of the sweetness therein. Thank you for being part of this exciting journey of positive change and development.
"Nouara" is a leading training under the big umbrella of the life-growth program. We named it "Nouara," which means blossom in Arabic because this is the core purpose of the program; to see women grow in the many aspects of their lives, taking care of their souls and selves.
The life-growth program seeks to nurture a growth mindset aiming at bringing hope and light back to women's dim view of their status, igniting their desire and willingness to pursue change and seek development by identifying the beliefs and values based on which they judge opportunities, look at options, and choose alternatives. Therefore, this program helps women carefully choose priorities, set boundaries, and build new healthier habits. Thus, it helps her overcome the obstacles that hold back her growth and development, causing poor performance and life quality. This program includes conducting workshops and providing online content and follow-up.
In order to achieve this, this program empowers women with knowledge, tools, and methods to assist them in evaluating the areas that require the most attention at the particular stage in their lives. It teaches them how to take practical steps toward developing four main interior aspects that affect their whole life: her mindset, heartset, healthset, and soulset, which equips them to grow and live a healthy and fruitful life. 
Encouraging feedback from our precious ladies:
"[I felt as if] giving birth to my child ruined my life. I learned from the session about habits to transfer my mindset into a growth mentality. I also learned that emotions are a mix of some comfortable and uncomfortable feelings that are all beneficial; there are no positive and negative emotions. I am spreading the new revelation everywhere I go." 
"You are an excellent tool for improving people's lives. You managed to do it even if behind the scenes. Thank you for your smile.
I have this special prayer inside me for women, whom I believe are vital workers in building a healthy community. I realized that such women exist, and God is working and has entrusted faithful people. Now that I have met you, I see it as an answer to prayer. You have a vision and a goal to empower women; you are not just giving crumbs when it comes to serving women."
"My life was disordered! You established order in my life and helped me see things clearly in mind, health, and spirit. I have developed a better understanding of who I am. The wheel of life made a great difference in me. I now have the resilience to adopt habits. I now execute what I write. Words are not enough to thank you!"
Your support to ACCTS-AWT allows us to continue making a significant impact in the lives of these women.