News
The day Laura Bush visited us in Amman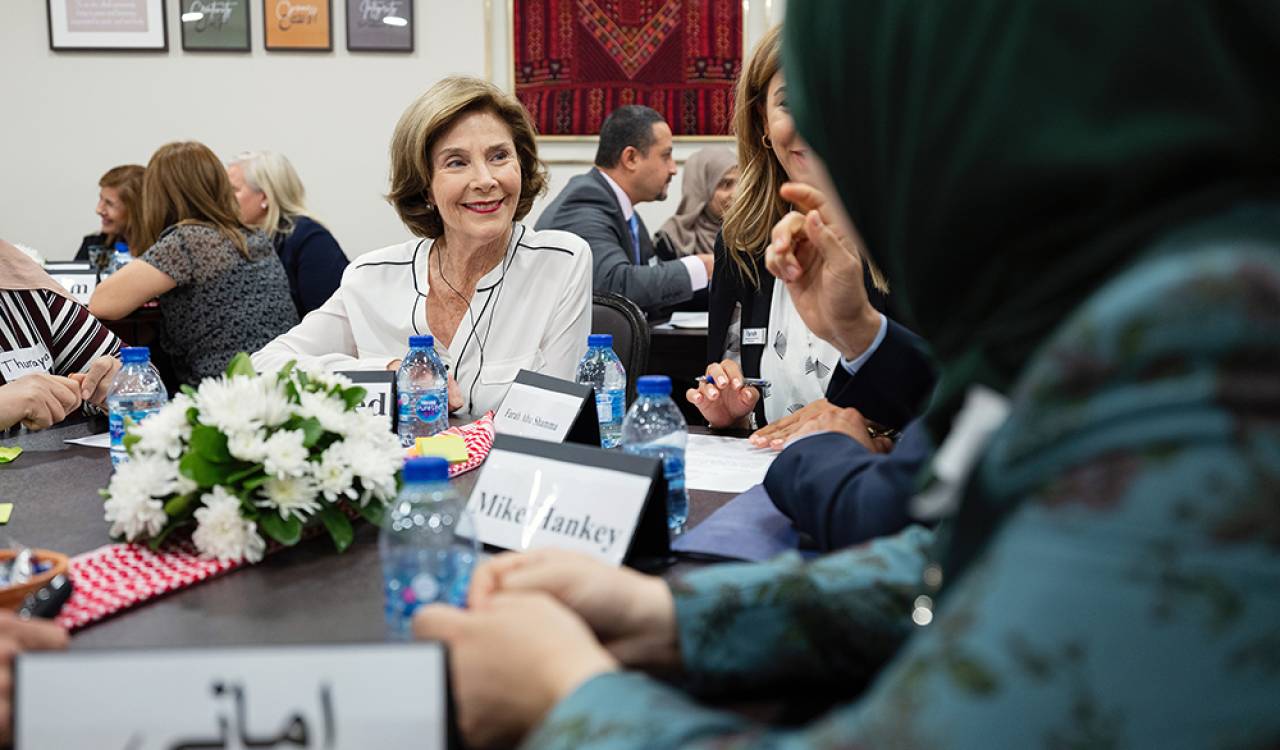 The day Laura Bush visited us in Amman
By Ruba Rihani Abbassi
I was surprised when the email arrived in my inbox. The former first lady Laura Bush and members of the Bush Institute were visiting my country, Jordan, and they wanted to visit our center within days.
I have fond memories of the Institute were I, along with the other 20 women from five Arab countries, honed in our "We Lead" leadership program in 2018. While in Dallas, Texas, I had also met with Mrs. Bush and President Bush for at least three times. I learned a lot from her wisdom and was encouraged with her vision to empower leaders and advance the economic empowerment for women in the Arab world. I have never dreamed of her visit to me in the field at our center ACCTS-AWT (The Arab Center for Consulting and Training Services). Frankly, I was tense and excited at the same time, but the Bushes and the American Embassy team who came to our office before the visit eased the preparation process. 
On the day of the visit on October 24, 2019, I was so excited to see her walk through our doors alongside Mr. President George Bush. I felt cared for not only on papers but also by this unique touch, which demonstrated a strong follow-up and that they do what they say. One of the alumni colleagues, Farah Abu Shamma, was able to join this event and be the facilitator between the participants and Mrs. Bush during the small group discussion. 
Mr. President and Mrs. Bush had a chance to sit in one of our workshops and observe the way we conduct it. Seeing President Bush engaging with a Syrian refugee who was wearing a hijab moved me. The president asked her if she is ready to go back to her country, and she answered in the negative. The problem in Syria is that the regime there is no good, she told President Bush. Our work has also extended to the Iraqis, and we experienced firsthand the traumatic effects of the Iraqi war. Consequently, tens of thousands of refugees fled to Jordan and across Jordan to other parts of the world.
We had a short but substantial meeting with the president talking about the general situation in Jordan and the Middle East. On the one hand, members of our board welcomed our distinguished guests and expressed their appreciation for the work of our King in trying to advance peace in the region. Moreover, he urged Americans to listen to the wisdom of His Majesty, King Abdullah II.
I sat opposite President Bush and one of his first questions to me was, "why did I set up the Arab Woman Today Center?" I told President Bush and the entire delegation that I had a tormenting experience as a very young child. My parents abandoned me and sent me to a boarding school at the age of four. My mother had to follow my father, not by choice but by force to serve him the moment he got a job in one of the gulf countries. Having learned that fact when I was studying at Yarmouk University in northern Jordan, I wanted to be the voice of every Arab woman. I wanted to make sure that other Arab children do not have to face that harsh, aching experience that I had. Since then, I dedicated myself to work hard to improve the life of Arab women. We use various ways to motivate them to change their living conditions through different kinds of training workshops, media messaging, as well as dealing directly with families. We work with Syrian and Iraqi refugees, not only Jordanians.
On the other hand, Director Nabeeh Abbassi shared about ACCTS history and successes during the last seven years of its establishment, besides the challenges we are facing as an organization.  
In answering a question about the size of Jordanian evangelicals, the president was surprised to learn that we are 10,000 in total worshiping and practicing our faith freely in about 70 churches. Karen Sasahara, who is serving as Chargé d'affaires since March 2019, appeared surprised by the fact that we as evangelical churches are facing restrictions such as holding events in hotels and other challenges.
The visit of the Bushes to Jordan was not in the public eye. They visited the Roman city in Jerash and other historical sites. They had other private meetings, but their visit was not in the public domain here in Jordan. It has been an honor to receive them and to share with Mrs. Bush, the president and the rest of the American delegation, our concerns, challenges, and aspirations as Christian Arabs working hard to guarantee a better life for all Arab women and men. We welcomed the visit of the Bushes and their keen interest in our lives and our work.
******************************************************************************
Ruba Rihani/Abbassi is the founder and manager of "Arab Woman Today," a department within ACCTS – The Arab Center for Consulting and Training Services, a nonprofit organization based in Amman working to advance the lives of women throughout the Arab world. For more visit https://accts-awt.com/index.php