Balshi Min Hon-Season 4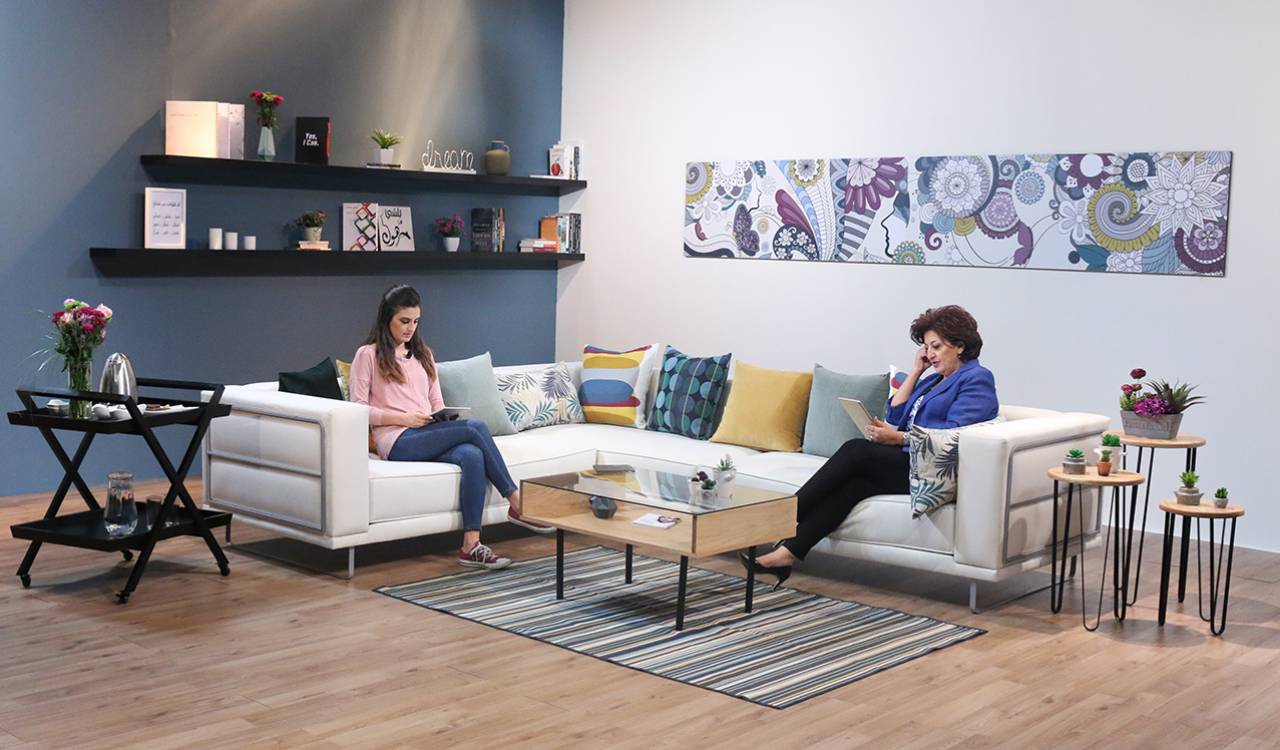 Satellite Television Outreach – Generations perspectives on Women Issues
Season 4
The fourth season of our TV program, Balshi Min Hon challenged the generations. It helps our audience get more awareness of generational differences, and the women to acknowledge that they have a voice.
9 April 2018
Amman, Jordan (ACCTS-AWT) - On 9 April, ACCTS-AWT started its fourth season of Balshi Min Hon Satellite Television Broadcast, which means Start from here, on Arabic PLUS Channel. 
The Satellite TV broadcast aims to have a program, which empowers and equips the Arab woman so that she might pursue a change in her personal, spiritual, and social life. We aspire to motivate Arab women to believe in themselves, embrace their abilities, and eventually reach a well-balanced life. Moreover, the program seeks to empower women through biblical leadership skills based on the word of God. The broadcast motivates viewers to start a change in their patterns of thinking, habits, and ways of communication. Above all, to start a change in their life journey by following Jesus.
Viewers are motivated to start a change
The fourth season consists of twenty-four episodes 15 minutes each, aired on Sat-7 Satellite station. We published the broadcast on YouTube and shared it on Facebook. This program reaches millions of Arabs.
SAT-7 ARABIC channel broadcasts to 21 Arabic-speaking countries in the Middle East and North Africa. At least 400 million Arabic-speakers in the Middle East and North Africa have access to satellite TV. Thanks to SAT-7 ARABIC, 95 percent of the region's population can turn on their television and find the very thing most needed in their troubled region: hope.
SAT-7 ARABIC has been a positive influence on Middle Eastern society, making the Gospel available to millions of people and addressing social issues from a Christian perspective. Local believers make its programs, and at SAT-7's studios in Egypt and Lebanon produce the majority.
This season targets the young generation ages (25-34 years old) and addresses the differences of opinions, tastes, beliefs, and other social and cultural norms that exist between the older and the younger generations that the technological advances are widening. The broadcast brings out topics to the audience through conversations relevant to the young generation's lifestyle, values, and challenges, and based on how they view things in opposite to the older generation's perspective. Besides, it introduces the commonalities between these two generations, where they can develop understanding amongst interaction as a foundation for developing a shared language and building strong relationships with one another. 
Each episode raises awareness on both perspectives based on these discussed differences and commonalities. The dialogue helps women feel understood, and their voices heard. Two hosts representing the two generations share practical suggestions and solutions. We had the opportunity to build new partnerships with some local competencies: actors, producers, and significant social figures.
Discussions shed light on some crucial topics such as the Generational Gap, Women's Chances & Development at Work, Exploiting the Girl's Salary, Changing work Domain. In addition to Forced Residence Relocation, Physical Challenges, Financial & Time Management, Decision-making, Following Social Trends, Social Media, Broken Relationships, Hidden abuses, Parents' Relational Effect on the Girl, Single Women, Men in Her Life, Dating, Marriage, Emotional & Social Intelligence, Disclosure of Secrets, Fashion and Cosmetic Operations.
The Arab woman lives in a culture that mistreats her; therefore, this broadcast seeks to motivate the Arab woman to step forward to the change that she needs. Every episode includes some supportive, motivational questions, quotes, and statements for discussions. In addition, he viewer has the chance to listen to a biblical message on each topic.
Arab women need to step forward to start a change
You may read more life stories here.
We aspire from the program that women would engage in private social media conversations, develop a closer relationship, and thus obtain guidance on how to deal with personal needs. We also seek that women groups within churches outside Amman would become aware of the program and advocate for it.
Social Media creates followers and fans who are interested in watching the program repeatedly, which boosts viewing rates. We daily follow-up with viewers through our program page on Facebook. The page provides followers with more information, materials & answers relating to the discussed topic. It is a platform where they can start a journey of change. Viewers include those watching on TV and those watching through our YouTube channel. 
To know more about our TV Program, season 1, season 2 and season 3.