Balshi Min Hon- Season 1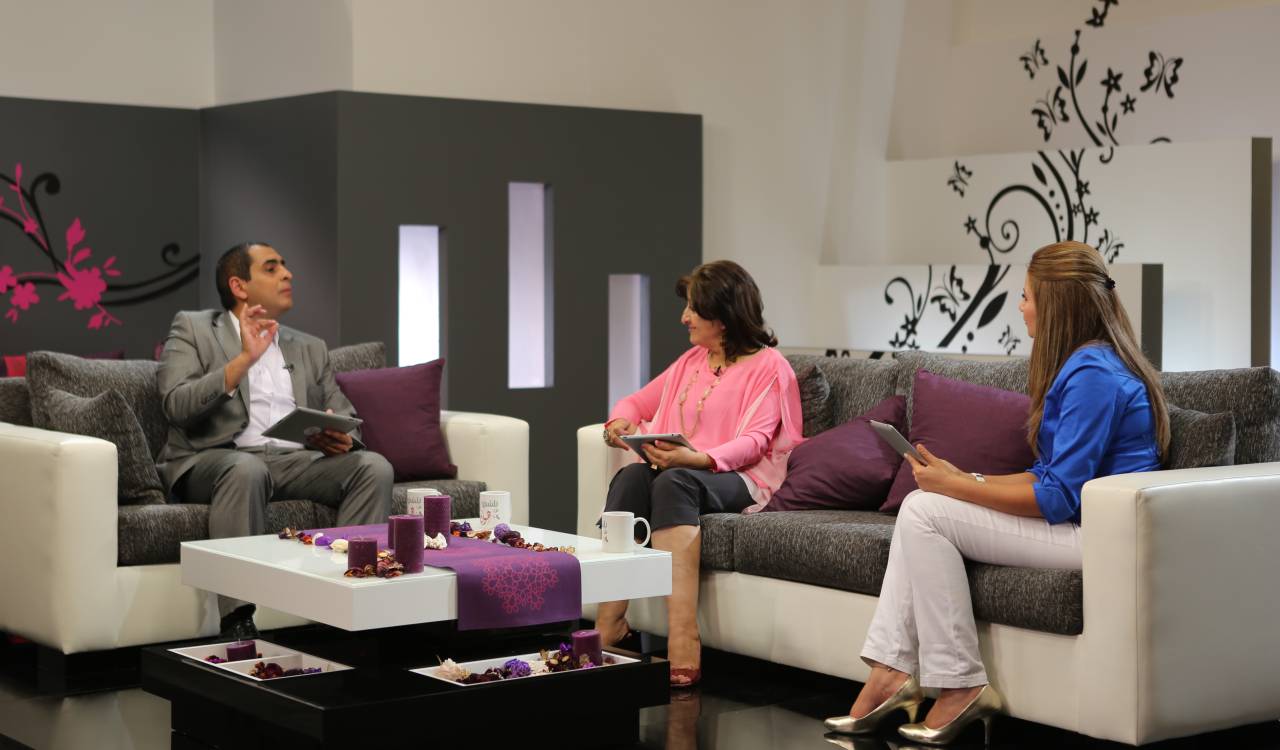 Satellite Television Outreach 
Season 1
Sat-7 TV station broadcasts the first season of our TV program, Balshi Min Hon.
1 September 2014
Amman, Jordan (ACCTS-AWT) – 1 September witnessed the broadcast of our first season of the Satellite Television Program Balshi min hon, which means Start from here. 
The Satellite TV broadcast is a program that empowers and equips the Arab woman so that she might pursue a change in her personal, spiritual, and social life. We aspire to motivate the Arab woman to believe in herself and embrace her abilities, eventually reaching a well-balanced life. 
We also seek from the program to empower women through biblical leadership skills based on the word of God. The broadcast motivates viewers to change their patterns of thinking, habits, and ways of communication. Eventually, help them embark on a life journey of transformation as they follow Jesus.
                                        Viewers are motivated to start a change
The first season consists of 13 episodes aired in 2014. Sat-7 channel repeated the broadcast in 2015 on Sat-7 channel. 
SAT-7 ARABIC channel broadcasts to 21 Arabic-speaking countries in the Middle East and North Africa. At least 400 million Arabic-speakers in the Middle East and North Africa have access to satellite TV. Thanks to SAT-7 ARABIC, 95 percent of the region's population can turn on their television and find the very thing most needed in their troubled region: hope. 
SAT-7 ARABIC has been a positive influence on Middle Eastern society, making the Gospel available to millions of people and addressing social issues from a Christian perspective. Local believers make its programs, and at SAT-7's studios in Egypt and Lebanon produce the majority.
Episodes tackled the following topics: Thinking types, Self-motivation, Goal-setting, Decision-making, Effective communication skills, Understanding personality types, Confrontation and giving feedback, Conflict resolution skills, Working within a team, Effective negotiation skills, Time-management skills, Me and technology, Forming and changing habits.
Since the Arab woman is living in a culture that mistreats her, we sought from this broadcast to motivate the Arab woman to step forward to change she needs. Every episode includes some supportive, motivational questions, quotes, and statements for discussions.
                              Arab women need to step forward to start a change. 
You may read more life stories.
We aspire from the program that women would engage in private social media conversations after watching the program, to develop a closer relationship, and to obtain guidance for dealing with personal needs. We also seek that women, groups within churches outside Amman, would become aware of the program and become advocates for it.
Social Media creates followers and fans who are interested in watching the program repeatedly, which boosts viewing rates. Through our Program Page on Facebook, we daily follow-up with viewers. Viewers include those watching TV and those watching through our YouTube channel. 
Interaction with viewers happens through YouTube, Facebook, and Gmail. The viewer can hear a word of encouragement as well as the biblical perspective on each topic. 
To know more about our TV Program, season 2, season 3, season 4.