News
Preschool Second Group Graduated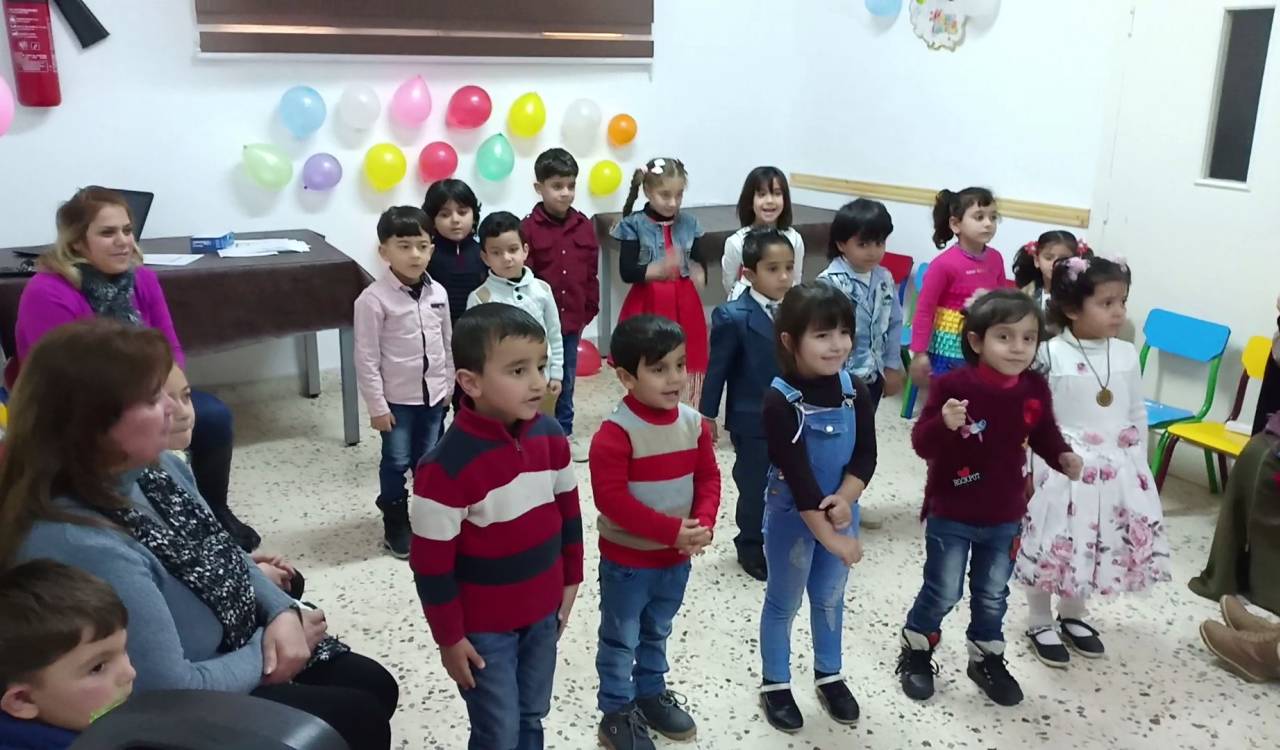 Preschool Second Group Graduated
Fifteen children have accomplished a six–month program that started on July 2nd, 2018. Fifteen mothers attended the party, in addition to some visitors from the local community.
December 18th, 2018
Irbid, Jordan (ACCTS-ICC) - ACCTS Irbid Community Center at Husson graduated the 2nd group of preschool children. The party program included several paragraphs carried out by the children. Before starting the program, a focus group discussion was held with the related mothers. They shared how the center impacted their lives and their families. They mentioned that the main reasons for sending their children to the center are: the widespread reputation of the center in the surrounding area, the way the ICC staff treats beneficiaries and how they shower them with their love and passion. The experience parents' had made them trust the center, in terms of its expertise and capabilities in teaching their children.
The parents observed changes in their children after joining the preschool program. Their behaviors have changed from being disorganized and annoying others into being well-organized, neat and calm. The children became more socialized and friendly instead of being aggressive. They used to be shy without confidence, however, after joining the program, they built more confidence and they became sociable and able to express themselves in a proper way.
Some of the children used to utter bad words at home without being controlled over their behavior by their parents. But now, they stopped behaving in such a bad manner. Children can now distinguish between right and wrong. They have also started to have an impact on their brothers and sisters to behave in an acceptable way. Some children had problems in uttering words, but they can now speak and express themselves. Some children used to be selfish at home. But now, they share their toys and foods at home and outside.
All children used not to know any of the alphabets, numbers, colors, or shapes. Glad to say that they can join public schools easily at the time being because they now know all these things verbally and written. All children are eagerly willing to come to the center from the first day they join the program and they start to hate any holiday.
All mothers expressed their satisfaction with the center and their profound gratitude and respect. One of the mothers shared that her child told her that he wants to marry one who has the same name as his teacher.
The parents do appreciate the welcoming staff of the ICC. All of them are satisfied with all the facilities provided at the center.
On the personal level, the parents themselves benefitted from the program. They noted that they had more time and opportunities to do the housework, visit others, participate in training courses and go shopping, etc.
Not to mention that parents recommended increasing the duration of the program to one year instead of six months.