News
A wide-scale local campaign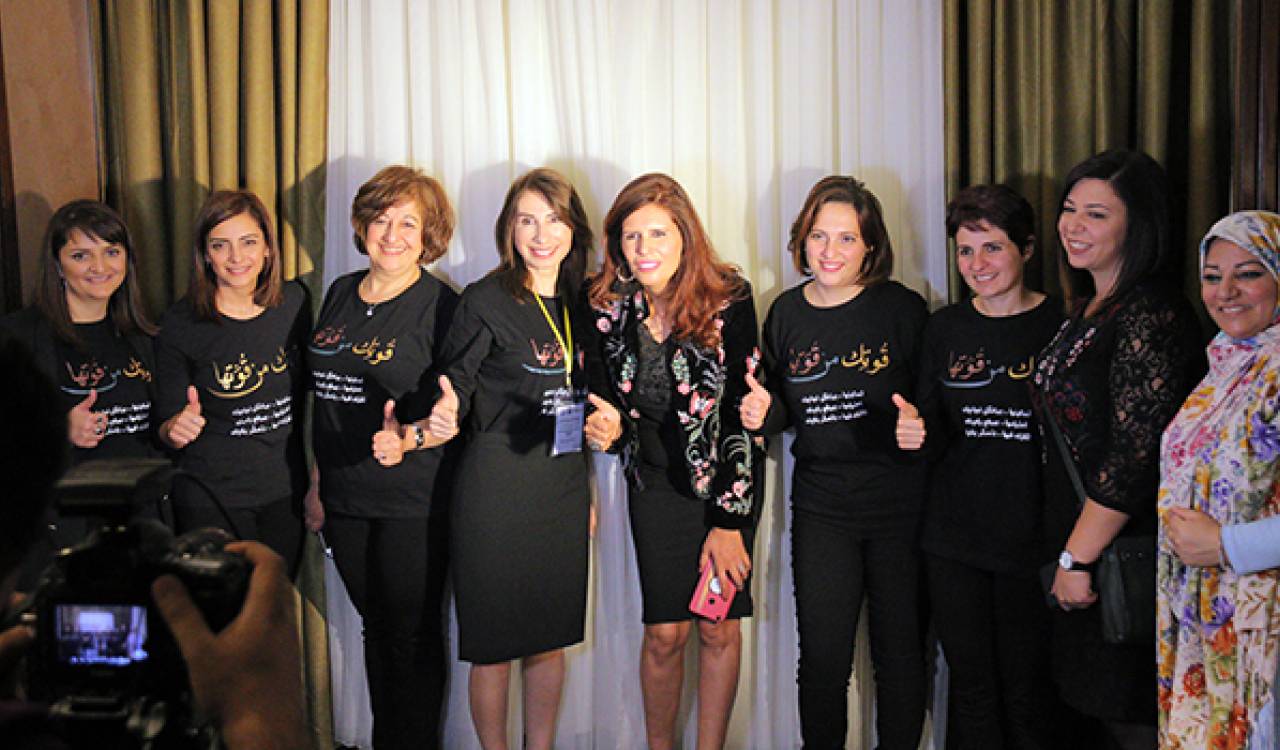 A wide-scale local campaign
Under the patronage of her Royal Highness Princess Basma Bint Talal, ACCTS-AWT was privileged to have held a local campaign titled "Your strength comes from hers" this November.
17th Nov. – 9th Dec. 2018
Amman, Jordan (ACCTS/AWT) – During the last two months, ACCTS team has been fully dedicated to this cause which aims at promoting strong beliefs regarding women's value, rights and potentials. It encourages women to empower and support other women.
The campaign continues till Dec. through different and wide activities and tools. It aims at raising awareness and drawing public support virtually and on the ground to ignite a flame of hope for a better life for women. Lectures and workshops took place in schools, colleges and different intellectual edifices: Princess Alia University College, Raya Bent Al-Hussein School, the Greek Orthodox School plus a group of Community Women activists in Madaba, three Latin Patriarchate High Schools in Madaba, Al Fuheis and Naour, and The Lady of Nazareth College. Five hundred and thirty-six women were empowered through the different workshops, and a public march supporting the cause took place, too.
The campaign was launched on the 17th of November and is held in partnership with many influential non-governmental civil organizations. Such as Arab Women Media Center (AWMC) whose concern is developing the community in the fields of human, women and children rights, Sisterhood is Global Institute Jordan (SIGI) which believes that women are partners in facing public challenges and formulating future directions.
The social media response was phenomenal; lots of women opened their hearts and expressed gratitude for other women who supported them in their lives. Love was abundant! One of our beneficiaries encouraged her friend with these words:
"You are a woman who knows how to love sincerely and spread it all around. If I could describe you in one word, I would say "A FIGHTER". You have always given me a PUSH to not give up, HOPE to keep believing for the best, passion to keep serving. You INTERCEDE on my behalf in every single situation I go through. You are a gift from Heaven to my life."
In this campaign, we focus on three core dimensions that give women the strength they need to grow in self-confidence, unlock their potential and break down barriers to be active participants in the development of the society. As previously mentioned, it encourages women to empower and support other women which can basically happen through believing in her, respecting her and empowering her.
We believe the equity that women demand is not only an issue between them and men, but it is often an issue between women themselves. They are the most important catalysts for change. By challenging and defying discriminatory attitudes, individual women and women's groups can advance the rights of women for generations to come.
For a live glimpse, visit this campaign launch video to mark this day!