News
'Watad' festival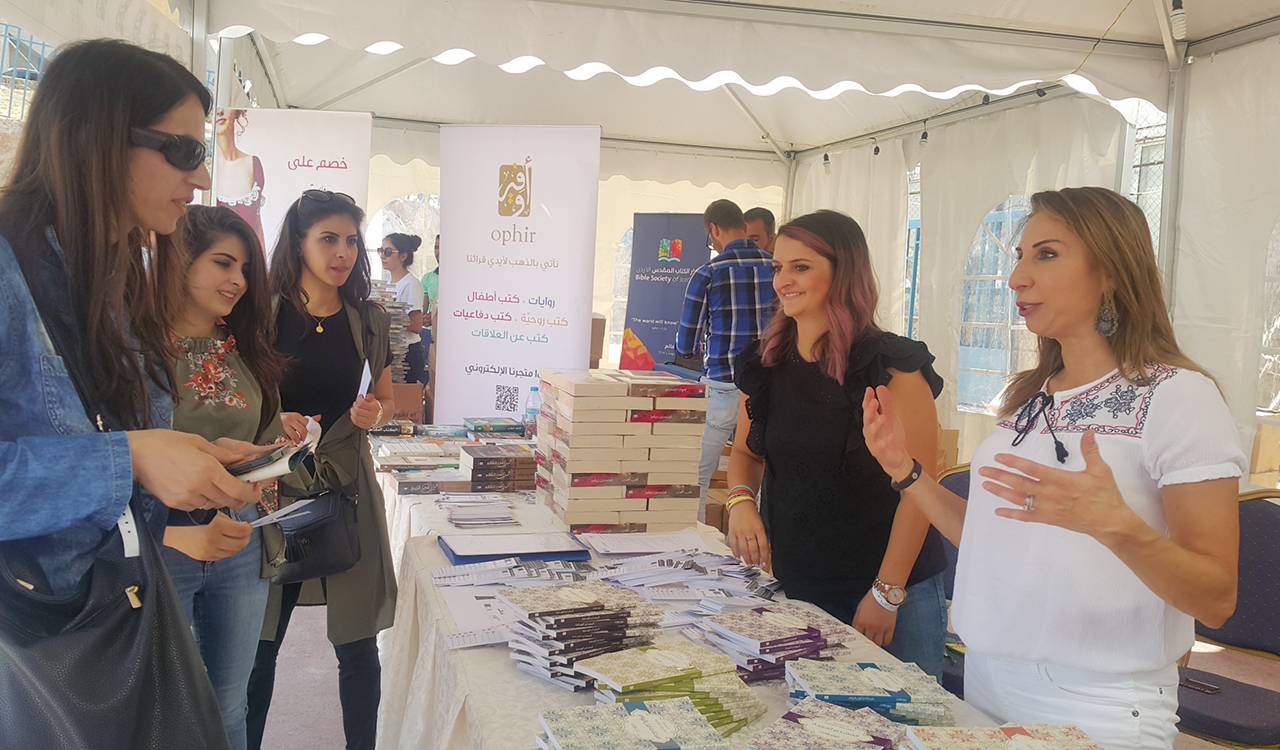 Hope in Unity & Message of Hope
'Watad' festival opens with the participation of Fr. Makary Younan- ACCTS participated.
2nd September, 2017
Al-Ahliyya Amman University, Amman, Jordan – ACCTS participated in a grand festival, titled "Watad" which is organized by the Bible Society of Jordan, opened in Amman today, Saturday, September 2.
ACCTS had the opportunity to introduce itself and its work to the public, distributing bookmarks and recruiting volunteers. The team sold some Biblical counseling books and the book: The Arab Woman: Embracing her potential by Ruba Rihani founder of the Arab Woman Today department at ACCTS.
Episodes from our Satellite Television Broadcast Balshi Min Hon were projected on a TV screen during the event.
Some interventions from people occurred. One security guard watched a whole episode and shared, "One virtuous woman in the society is better than a million corrupt men. What I heard was logical; when a woman is educated, holds a certificate, and earns herself a reputation, it is a great achievement!
If it is about having a salary, she can work and earn money too, the same as her man counterpart if not better. She can do it!
We definitely need such a program that talks about the woman. We need to educate the new generation and leave them a legacy to inherit and follow in our footsteps."
The idea of the festival "Watad" emerged from the verse: "So that with one mind and one voice you may glorify the God and Father of our Lord Jesus Christ." (Romans 15:6).
Heads of the churches and their representatives participated in the festival, in addition to a large number of priests and nuns, scouts, volunteers, and people from various Churches in the Kingdom.
Fr. Makary Younan of the Coptic Orthodox Church and Egyptian Evangelist Preacher Sameh Maurice took part in the festival, as they delivered two sermons; one in the morning and the other in the evening.
The festival included a number of spiritual, cultural and entertainment activities that continued until 9:00pm.
It is to be noted, that upon the arrival of Fr. Makary, he held special prayers with the sick at Cathedral of St Ephrem the Syrian Orthodox Amman, Um Uthaina as well as opened the Watad Festival.
The official prayer that will be said proclaiming the opening of the festival says:
Lord Jesus Christ,
On the night when you died,
You prayed that Your disciples would be united,
You said, "I will come to you very soon, and bring joy to your hearts,
Here we come today, as one family,
Asking You to bless this festival, Watad,
You-- who have set up Your tent, Church, incarnated, and raised your tents with wedges--bless this festival, all its participants and volunteers to ensure its success,
In order that we may become witnesses of faith, joy, love,
Make us messengers of unity wherever we are, and tools for Your peace in our beloved homeland, Jordan, as well as in all the countries of the Middle East and the world,
Thus, our life will be in the service of all, in glorification of God who has always been keeping us in His Mercy and care as He is eternal and dominant, Amen.
'Watad' festival concludes activities
On Saturday evening, September 2, The "Watad" festival, concluded its activities with the participation of a large number of priests and nuns, and people at Amman University.
The festival concluded by a sermon presented by Pastor Sameh Maurice who talked about the love of God and how people must love one another. Later, Fr. Makary Younan talked about man's weakness as well as fear of facing God and the truth.
This was followed by the "Our Father prayer" and blessings.
ACCTS aims to contribute to the society and leave footprints behind. For ACCTS, joining such a big one-of-a-kind event means opening doors and building bridges with the different church organizations, with an end result of improving community cohesion and supporting unity.
Information about Watad festival, modified from http://en.abouna.org.