News
Five Years of Impact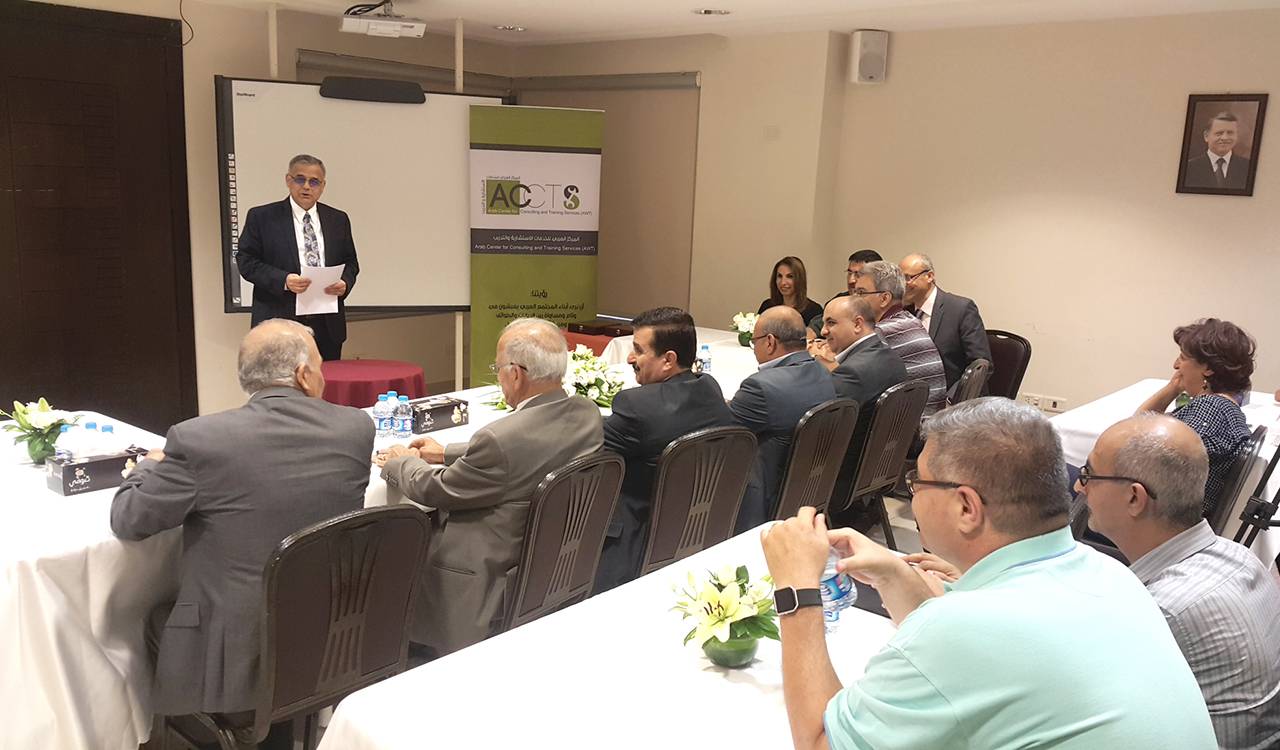 Five Years of Impact
ACCTS celebrated its fifth anniversary as a registered organization and a ceremony was held for the occasion, gathering the staff body and guests. A speech was delivered by the Director of the Foundation, Rev. Dr. Nabeeh Abbassi who reviewed the Foundation's achievements in the past five years.
30th of July 2017
Amman, Jordan ( ACCTS-AWT)-  ACCTS had the privilege to celebrate its fifth anniversary this 30th of July 2017 and what better way to celebrate than to be reminded of what has been achieved in those five years, the influence we had on the society, and the change thereof. A ceremony was held on this occasion and we were honored by the presence of a representative of the Ministry of Culture and a representative of the Ministry of Planning, and distinguished members of the Constituent Assembly of ACCTS: Fawwaz Sharayha, Imad Maayah, Sultan Masannat, Amjad Gammoh, and Ruba Rihani.
A speech was delivered by Rev. Dr. Nabeeh Abbassi to review the projects achieved in the past five years. Here are some, among a multitude, mentioned by the Reverend; trauma  workshops were held for 2400 Syrian ladies, the opening of the cultural center in AlHusn in 2015 to serve the local community and the Syrian refugees through offering educational and professional courses, the release of Ruba Rihani's book "The Arab woman: Embracing her potential", and the initiation and implementation of the rehabilitation rule project in support of integrating prisoners into society through creating advocacy and support programs. This tends to provide them with the opportunity to work with the private sector, and the overall project will be completed in March of 2018.
He also mentioned the Foundation's future plans such as extending a project for two years to target 2426 women and men on all trauma related topics, besides some subjects more specific to men. The institution of ACCTS hopes to have an agricultural project "GREEN HOUSE" through collaborating with some US institutions, with the goal of supporting the cultural center financially and administratively. ACCTS plans to work a special section that cares for men locally and regionally similar to what is in place to cater for women's needs.
All these would not have been possible without the support of our exceptional partners; Ghassan Tanash, Director of Cultural Organizations and Festivals of Ministry of Culture, whom we consider to be a key partner since the first day where he provided support and advice tirelessly, Salman Al-khalaileh, Director of Planning and International Cooperation, the Ministry of planning, who encouraged by supporting continually and gave the institution all approvals for external funding to support projects. Also our dear partners; ZOA And Tearfund who have never failed in generously supporting financially and administratively, not to mention, Nidal Abbassi, a dear friend of ACCTS. Last but, in no case the least, all the members of our staff for their outstanding efforts.
These were five years of great partnership and witnessing transformations in lives. Fortunately, there is more to come and we are looking forward to see more fruit from the projects, and all this falls under our vision which is "To see the Arab community living in peace and harmony; empowered spiritually, psychologically and physically."